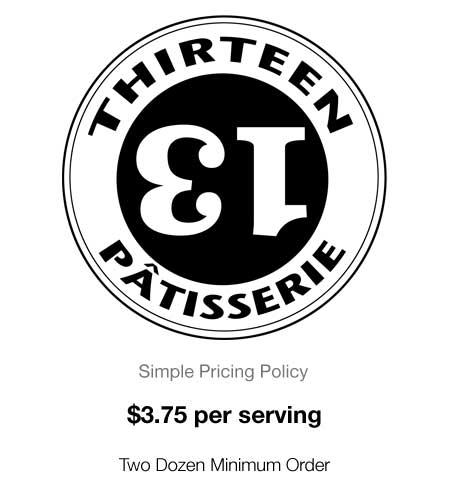 Our prices are designed to be simple to understand and easy to calculate in advance.
Every order is created completely from scratch using only the finest sourced ingredients. We take the greatest care to make sure that the end result will be amazing and magical. We do not keep inventory on-hand to sell. Each order is made specifically for each client.
Prices are $3.75 per serving with a two dozen items per product minimum order. As an example, if you were to order 2 dozen Ginger-Honey Brioche, the cost would be:
24 Brioche x $3.75 = $90.00
If you were to purchase 2 dozen of two different products:
24 Lemon Muffins + 24 Denver Special x $3.75 = $180.00
Please note that cakes and pies will also fall under the same per serving pricing but may be ordered individually. This makes it easy to calculate your costs for your next function.
Both pick-up and delivery options are available. Delivery charge depends on distance. Local Peterborough delivery is free.
For new client orders over $360.00 we require a 50% deposit.