The Story of Thirteen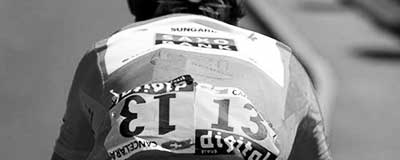 There is old cycling lore about the superstitions behind the number Thirteen. It is tradition that the rider who receives the race number 13 will wear it upside-down on their back in the hopes of gaining good luck in the race.
Thirteen has always been a lucky number for me. My daughter was born on the thirteenth – and a Friday no less! She has brought me only the best of luck since.
When we open our retail space, there will be bikes hanging from the walls and ceiling. Cyclists from near and far will come visit us before their early morning departure as a meeting spot or as a post ride gathering place. It will be easy to spot us. Just look for our hanging Thirteen sign with all the bikes parked out front!